Toast Tuesday: Worth The Hype?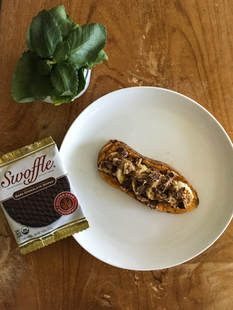 ​Is Toast Allowed To Be This Creative? 
The days of toasted bread topped with butter are long gone since the rise of trendy, yet healthy toppings. Creative and aesthetically pleasing, the topped toast has evolved breakfast time for the better. Mashed avocado topped with salt and pepper on bread has sparked this trend, making way for endless options to spice the once mundane morning meal. The popularity with alternative toast toppings has many questioning, is the trend worth the hype?
Simple yet elaborate, this trend has allowed on-the-go individuals to test their creative side while maintaining a balanced diet. The conclusion: definitely worth the hype. From sweet to savory the options are endless, allowing for toast to satisfy any craving. Let your imagination run wild! From almond butter and banana to cream cheese and smoked salmon, there are a variety of ways to cater to your hankering for a tasty snack. This trend has become so popular that even a day of the week is set aside for your most creative toast concoctions.
The hashtag #toasttuesday, started by various food bloggers, has attracted a large following on Instagram. Instagram "foodies" and users have used this hashtag to show off their intricate creations, spreading ideas across the world. Finding toast topper ideas may sound trivial, but once you search #toasttuesday on Instagram you'll be amazed at the innovative ways in which chefs, "foodies", and food-loving individuals have transformed toast. Among the various innovations includes an alternative toast option for the Gluten Free community; sweet potato.
Gluten Free food lovers and those with celiac disease have found success with gluten free bread for their toast cravings, but what about a completely plant based option? Sliced sweet potato has sparked buzz for a healthy, fresh take on toast that is not only tasty but nutritious. Baked with olive oil, salt and cinnamon, sweet potato is breakfast's newest trend setter. Now the GF community can enjoy #toasttuesday like everyone else, continuing to invent more ways to consume food while promoting a health conscious and gluten free lifestyle!
Innovators over at Swoffle have incorporated our own tasty treat to satisfy your morning sweet tooth for #toasttuesday! Easy and delicious, try Swoffle Sweet Potato Toast as seen on our Instagram page!
Ingredients:
Swoffle Dipped Dark Chocolate Cookie
Sweet Potato
Banana
Nut Butter
Cinnamon
Salt
Instructions:
Step 1) Preheat oven to 400 degrees.
Step 2) Slice your sweet potato so it's thin and toast-like.
Step 3) Cover it in olive oil (coconut oil and/or alternative oils work just as well!) then sprinkle with cinnamon and salt.
Step 4) Put in oven for 10-20 minutes or until the slice is soft enough.
Step 5) Take out of the oven, spread your favorite nut butter and top with sliced banana and crumbled Swoffle cookie!
Step 6) ENJOY!
Stay tuned for more recipe trends that live up to the hype! Keep using Swoffle cookies to create your own culinary masterpieces and don't be afraid to share them on Instagram and tag @swofflecookie.