The Bliss of Summer Treating by Leslie Forde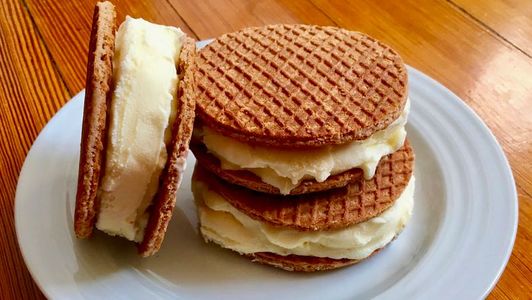 The Bliss Of Summer TreatingBy Leslie Forde
Summer is the time when all of life's rules seem to relax a bit.  Late evening sun encourages lingering at the park or taking a post-dinner walk.  Complicated mornings with the assembly line of buckling, buttoning and coat adjusting are exchanged for swift slip on sandals, shorts and strappy dresses.  
More access to the great outside = more running, jumping and physical play.  Is there a better time to rediscover treat joy?  I think not! 
Treats, desserts, snacks or consuming anything not required for sustenance, tend to share a tarnished reputation.  Occasional eating between meals feels like coloring outside of the lines and inevitably ends up on the (long) 'no-no' list. 
As a fan of bringing dessert into the everyday, I reject all of that!
Treats are fun and glorious.  Have you ever looked into the eyes of a child tasting something delicious?  It's magical.  It's with that wide-eyed, full-faced grin that I'd like to revel in the pure fun of sweet treat indulgence. 
My children want to play sous chef at almost every opportunity and it's been important for me to share my love of food and making things.    
After all, cooking is simply: starting with a vision, taking loose ingredients and following a process of transformation and then, achieving your goal oh so quickly.  I'd like the lessons of cooking to follow them into their lives and inspire that same sense of accomplishment from taking action, big or small. 
I digress… back to treats! 
I had the pleasure of meeting Swoffle CEO and Founder Julia Paino and after hearing her inspiring story behind bringing the stroopwafel to America, I just had to experiment with 'swofflizing' some favorite summer treats.  
Whether you choose to make your ice cream from scratch or pick up a pint of your grocery favorite, assembling ice cream sandwiches with Swoffles is tremendous fun and suitable for little hands to help (should you want assistance). 
Enjoy this easy, breezy '5 minutes to happiness' version of summer's best with a little stroopwafel twist!   
Swoffle Ice Cream Sandwiches
In the world of desserts, it's hard to top the ice cream sandwich.  Firm, yet tender 'lids' of your choosing bookending a generous scoop of ice cream.  As you would expect, 'ice cream meets Swoffle' is a love story.   The rich caramel flavor of the Swoffle and textured surface marries beautifully with dreamy ice cream. 
If you're inclined to give making your own a try – my favorite 'go-to' ice cream recipe is below, my version based on a recipe from former colleagues Greg Case and Keri Fisher.  There's enough custard to make two batches (by pouring half into your ice cream maker at a time) I always do. Ginger and classic vanilla bean flavors work wonders in a Swoffle sandwich.  If you're looking for something even richer, coffee or chocolate would also be amazing pairings.  The ability to assemble and freeze the sandwiches in advance makes this a crowd-pleasing party dessert. 
Short on time? Your store-bought favorite will work out just great. 
Swoffle Ice Cream Sandwich Steps:
Place two Swoffles for each sandwich on a cutting board or flat surface
Add one generous scoop (about 1/2 cup) of ice cream to the base Swoffle
Gently place and lightly push to adhere the second Swoffle to the top of the ice cream
Freeze completed sandwiches in airtight, freezer-safe containers (for at least two hours).
Vanilla Bean (And Ginger) Ice Cream
Modified from One Cake,
One Hundred Desserts
by Greg Case & Keri Fisher 
Note: Ice cream maker required. 
2 cups of whole milk
4 cups of heavy or whipping cream
8 large egg yolks
1 cup of sugar
For the vanilla batch:
1 vanilla bean or 2 teaspoons of vanilla extract
For the ginger batch, if making:
  2 tablespoons of grated fresh ginger and optional ½ cup of minced crystallized ginger pieces 
Making the ice cream:
Heat the milk and cream, with ½ of the sugar in a medium saucepan over medium heat until hot, but not boiling.  Stir the sugar to ensure it dissolves before removing it from the heat.
Whisk together the yolks and remaining ½ cup of sugar in a medium heatproof bowl.  Add a small amount of the hot milk to the yolks (about 1/3 cup) and stir gently with a spatula or whisk to combine.  Slowly add the remaining milk and stir or whisk to combine.
Two options for cooking method:  If you've never done this before, I'd recommend using a double boiler approach because the custard can overcook quickly.  Place the bowl over a pot of barely simmering water and cook the custard stirring frequently and slowly until thickened, about 15 – 20 minutes; you should be able to trace your finger through the egg mixture on the back of a spoon and leave a track.  If you've made ice cream before, you can just return the ingredients to the pan and cook on low very carefully, stirring constantly and watching closely.
To make 2 separate batches:  While the custard is still hot, pour half into a second bowl.  To the first bowl, add the vanilla bean (if using) split in half lengthwise or add the vanilla extract to the mixture.  To the second bowl, stir in the grated fresh ginger.
Once they've cooled to room temperature, cover and refrigerate until cold (8 hours or overnight).
Carefully pour the custard into your ice cream maker over a fine sieve (to remove any lumps, vanilla bean or ginger pieces).
Process each batch according to your ice cream machine's instructions.  If making ginger, add the minced crystallized ginger pieces through the hole in the top of the ice cream maker in the last 5 minutes of processing time, when the texture is soft but not liquid.  
When you've finished, transfer the ice cream to freezer containers and freeze for at least 4 – 8 hours.
Enjoy!  If you try this recipe, I'd love to hear how it worked out for you.  Leave a comment!  
------------------------- 
About Leslie Forde
Leslie has a culinary degree and in a past-life, worked as a caterer and in restaurant kitchens.  She now favors making pancakes and ice cream with her children to constructing caramel towers.  She works in marketing full-time and advocates self-care for Moms & saving time cooking family dinner on her site, MomsHierarchyofNeeds.com. 

Check out

 

Leslie's Website

 

for more amazing articles and blog posts!
​Twitter
LinkedIn
Pinterest