How To Make The Perfect Summer Treats-Using Swoffle Cookie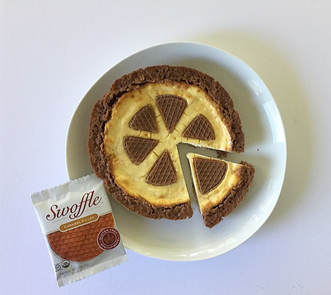 Indulge in the tastiest of treats this summer using our very own Swoffle Cookie! Don't just stop at these 3 recipes-create your own delicious desserts with our gluten free, organic stroopwafel!
​☀️ Swoffle Sweetcake- As seen on our Instagram☀️
 
Swoffle crust on the outside, sugary cream cheese filling on the inside- this isn't your basic cheesecake. Innovators over at Swoffle have taken this popular dessert to the next level and it tastes amazing. Sweet and creamy, this cake is the perfect way to indulge. Whether you've come home from a long day 
at work or spent the afternoon relaxing by the pool you deserve a piece of the heavenly cake. Is your mouth watering yet? 
Ingredients:
🍪 6 Caramel Swoffle Cookies (7 for the decorative topping) 
🍰 ⅓ to ½ cup of melted butter
🍰 8 oz of Cream Cheese
🍰 ¼ cup of Greek Yogurt
🍰 1 egg
🍰 2 tbsp of sugar
🍰 1 tbsp of vanilla
🍰 9" pie pan
How To: 
Make Crust: 
✔️Preheat oven to 350 degrees
✔️ Place 6 Swoffles in a bowl and crush them until they are in smaller pieces
✔️ Pour melted butter in the same bowl and mix in with the Swoffles
✔️ Transfer mix into pie pan and press down to shape the mix to the pan
Make Filling: 
✔️ Mix cream cheese and yogurt into a bowl
✔️ Add vanilla and sugar to the bowl and mix thoroughly 
✔️ Whisk egg then add to the bowl and mix
✔️ Pour mix into crust and smooth over 
✔️ Cut Swoffle into 6 pieces and place on top for decoration (as seen in the picture)
Cook: 
✔️ Place in oven for 45 minutes-1 hour
✔️ Take out of oven and cool off
✔️ Place in freezer for 10 minutes 
✔️ Cut a slice and indulge!
☀️ Swoffle Sammies☀️
 Who doesn't love a good Ice Cream sandwich on a hot summer's day? Next time you're craving this classic treat, reconsider purchasing a Chipwich and make your own Swoffle Sammies! Choose your favorite ice cream, grab two Swoffle cookies, and you're on your way to creating a masterpiece. Make Swoffle Sammies your staple this summer! Win over the hearts, and stomachs, of everyone at the picnic or outdoor BBQ with these crowd pleasers.
---
Ingredients:                                                                                                      
🍪 2 Swoffle Cookies
🍦Ice Cream of your choice
How To:
✔️ Lay Swoffles down flat
✔️ Use a scooper to place Ice Cream on one Swoffle,
​       then place other Swoffle on Ice Cream
✔️ Wrap with plastic wrap and place in fridge for 
       10-15 minutes or until desired (but not for too 
       long or the Swoffles with freeze!) 
✔️ Repeat above steps because we guarantee you'll want seconds
---
☀️ Swoffle Cone ☀️
Waffle cones are old news, so get with the times and try out Swoffle Cones. You may be tempted to bring your own Swoffle next time you're going out to eat Ice Cream- no judgement here! What makes the Swoffle Cone so perfect is its small snack size that is ideal for relieving your sweet tooth without guilt! But don't blame 
​us if happen to eat 2 or 3 😉
Ingredients:
🍪 1 Swoffle Cookie
🍦Ice Cream of your choice
How To:
✔️Using a knife, create a slit in the Swoffle that goes 
      from the middle of the cookie to the outside 
✔️ Take one side of the slit and fold it inwards to create a cone-like shape
✔️ Add a small scoop of ice cream 
✔️Enjoy enjoy enjoy!
Proud of your Swoffle creations? Share them on Instagram and tag @swofflecookie! Happy indulging this summer! Just don't forget the secret ingredient- Swoffle Cookies 😋